Virtual Walkabouts for Sustainability
An online exploration of sustainable development and habitat restoration in the Portland-Vancouver Metropolitan Area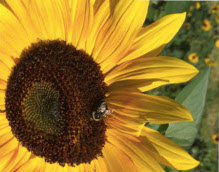 Introduction
In Australian Aboriginal culture a walkabout is a journey usually made on foot with the aim of gaining perspective, making a decision, and/or reconnecting with the land. In this spirit this site is a collection of virtual walkabouts of places in the Portland-Vancouver metropolitan area where people have come together to in some way transform the area into an human community that provides for the needs of present and future generations in a manner that protects the environmental health of the landscape of which it is a part.
The walkabouts in this collection are designed to give students, educators, and the general public perspective about what is possible for dealing with the environmental and social dilemmas we find ourselves confronting. As an educational resource these are meant to give people a "boots-on-the-ground" glimpse into these efforts who might otherwise not be able to see them in person. They are also meant to encourage and augment actual visits.
Site structure
Each walkabout is virtual exploration of a local sustainable development or habitat restoration project. Like an actual visit they give the viewer the opportunity to "walk around" the project, stop and look closer at features of interest, ask questions, hear from project stewards, read field notes from others who have visited the project, and gather data from the site. Individual walkabouts are accessed from interactive maps of the projects that enable the user to seek information in much the same way they might use GIS coverage of the site. In turn the maps of these projects are linked to regional maps that serve as a gateway to these projects as well as a means of gathering information about the natural setting in which these projects appear. The walkabouts can also be accessed from a set of indexes that allow the user to search by name, topic, or location.
Development of this site
This project is being developed with the support and guidance of Greater Portland Sustainability Education Network or GPSEN. GPSEN is a United Nations University Regional Center for Expertise on Education for sustainable development. Though this project was originated and is maintained by GPSEN research fellow, Frank Granshaw, it is gradually becoming a collaborative project involving local students, educators, project stewards, and other GPSEN folks working with Granshaw to develop the walkabouts and library architecture.
If you are an area educator who is interested in having your students learn about sustainability by helping with this projects, or have questions or comments about it contact Frank Granshaw at < fgransha@pdx.edu >.